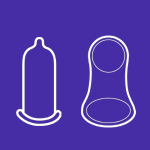 Condoms
External condoms (slip over a penis) and internal condoms (placed inside the vagina or anus) are the only methods of birth control that prevent most sexually transmitted infections (STIs), so it's an awesome tool for your toolkit! How it works: condoms work by keeping semen (the fluid from a penis that can contain sperm or infections) from entering the vagina, anus or mouth.
Considerations
› STI Protection
The best thing about most types of condoms is that they help protect you against STIs, including HIV (if left untreated, can cause AIDS). Lambskin condoms, however, are the only type you should not rely on for STI protection — they are able to block sperm, but not infections.
› Consistent and Correct
You have to make sure to use condoms correctly, every time, no matter what, in order for them to be effective. Need a refresher? Here's how to use an internal condom and an external condom! 
› Allergy Issues
If you're allergic to latex, you'll need to use a non-latex condom, or try another method. All internal condoms are latex-free!
› Storage and Privacy
Store your condoms in a cool, dry place away from any sharp objects and direct sunlight. Don't keep them in your pocket, car, or bathroom for long periods of time (over 1 month), because excessive heat and moisture can damage condoms over time. Always communicate with your partner(s) about using condoms.
› Lube is Your Friend
Most condoms are pre-lubricated with a water-based, spermicide-free lube, which is safe and comfortable for most. But adding extra water-based or silicone lube can make condoms feel great and help keep them from breaking. Put a few drops on the head of the penis or inside the tip of the condom before you roll it on, and/or spread lube on the outside of the condom once it's on. Don't use anything that has oil in it with latex condoms, like petroleum jelly (Vaseline), lotion, baby oil, butter, or cooking oils. Oil damages latex condoms and may cause them to break. If a condom is torn, dry, stiff, or sticky, throw it away.
› Have a Back-up
Many folks use a condom with another birth control method. In the case of an emergency (like the condom breaks), consider using emergency contraception and talk to your provider.
You can find external condoms just about everywhere, from gas stations to supermarkets, and even online. Internal condoms can be ordered online from the FC2 website, or talk to your healthcare provider about giving you a prescription for free or cheap internal condoms.
If you live in Tulsa or Oklahoma County, RevanRx can mail you a free, discreet "Just In Case" EC kit. Mail orders arrive within 3-5 days. If you need something specific, like latex-free condoms, just ask! It's still free. You can also get them for free at your local health center and local organizations like Youth Services of Tulsa, HOPE, Guiding Right and more. You have the right to buy condoms at any age.
These kits include: Emergency Contraceptive Pill (generic Plan B One-Step®), condoms, lube packets, pregnancy test strips, and a cup.
Here are some options to get your kit for FREE:
1. Online Order Form (below)
2. Call 1-888-773-8267 and say "I'd like to order a repro kit" or, for more privacy, you can say "I'd like the 'Just in Case' kit".
3. Or you can pick up a kit TODAY here in Tulsa: tinyurl.com/ECnearMeTulsa or here in OKC: tinyurl.com/ECnearMeOKC